New School, New Teachers, Same Worries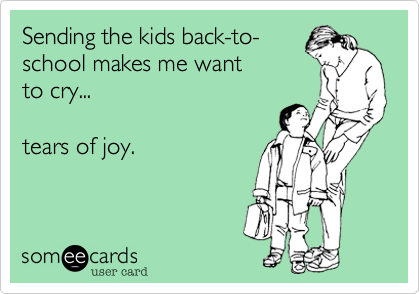 I have despaired of my children's education for years. Public education was always the only option for me as a child, and I wasn't fearful of it being the option for my children.
As a kid, I had some great teachers, some not-so-great, and yes, some freaking assholes. But I also loved school, learned plenty, and still carry good memories of that time. I know things change, but I had faith in public education.
Then I sent Aidan to school. It wasn't that he had awful teachers. He didn't. Kindergarten and first grade were great. Second grade, so-so. Third grade, better than the year before. Fourth grade was good because he's relatively intelligent, a good boy, and doesn't need a lot of direction. Each teacher was distinct, and Aidan is slowly learning how to deal with different types of authority figures.
What I learned, to my horror, is the staggering differences that can be found between schools within the same district, districts in the same state, and teachers within the same school.
Then, just as I was starting to worry he would only ever be taught to the test, we moved as a nation to Common Core, and I despaired that my child would never learn basic math – mostly because I could no longer teach him. (Hi, my name is Michaela, and I can't understand Common Core math.)
He's been in schools with fewer resources but teachers who care. He's been in schools with more resources and teachers who seem to be tired (and yes, I know teachers are overworked). His last school was a very poor school which, thankfully, meant it received extra resources from the school district. One of the few fortunate ones in Pinellas County, apparently.
I'm from small-town southern America. The choices you have in school options are one, maybe two choices. Take it or leave it. While Aidan was in 4th grade, after we'd moved to the "big city," I began to realize that other options abound, but only if you're fortunate enough to win a lottery or brave enough to home school.
I have zero aptitude for home schooling. I already know, six years early, that I won't be the one teaching Aidan to drive a car. No teaching bones exist in my body, and I have zero desire to find out if I can muddle through.
Thankfully, in our part of the world, charter schools are almost as numerous as the regular schools. When I received a brochure for a local STEM (science, technology, engineering, and math) school that was already doing well after only three years in existence, I knew we had to try.
By the grace of a mysterious Universe or the luck of the draw, both boys made it in for this next school year.
Sean heads off to kindergarten, my last baby, my shy guy.
Aidan is a big boy fifth grader.
No one is excited about the school uniforms. Aidan because he has a distinct sense of style even at age 10. Sean because he doesn't like belts. (Who knew?) Me? Well, I'm the one that has to get the school patch on the uniform shirt without it being on the wrong side, upside down, or off-center (because my OCD nature can't handle it).
Neither boy is excited about making new friends. Aidan has been to four elementary schools since kindergarten. He's tired of moving around. I'm tired of it for him. I hope this will become his academic home. Sean simply doesn't believe he's capable of making friends, even as he regales me with tales of his Boys and Girls Club summer camp friends.
I'm hopeful that I've found the right place for them. They are both interested in STEM topics in their own way. The school spends a lot of time on math and science, and the all important state testing is still a factor.
But they also remember to nourish their minds in other ways. There are a dozen after school clubs (most of which are free) that cover music, gardening, art, and other topics that can't be covered in the school day.
It doesn't matter that the new school gives me the warm fuzzies simply by effectively communicating via email or having a well functioning website filled to the brim with info. It doesn't matter that the boys' eyes light up at the thought of joining the Lego robotics club. I'm still going to worry that they're getting a good education, making a few friends, and being prepared for life after school.
It's a new school with new teachers, but the worries and fears are all the same.